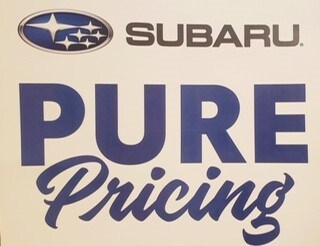 PURE PRICE: Our best and lowest price is Placed in the window of every car. It is our lowest price and given immediately in a haggle free environment. There's a lot of wonders in the world, A great price on a Subaru shouldn't  be one of them.
You can be in and out within an hour's time from choosing the Subaru you want, Spending all day in a dealership is a thing of the past, and a PURE PROCESS is the future of car buying.
We look forward to helping you find your Perfect Subaru, whether its online or in person, with PURE PRICE its a Win-Win situation.