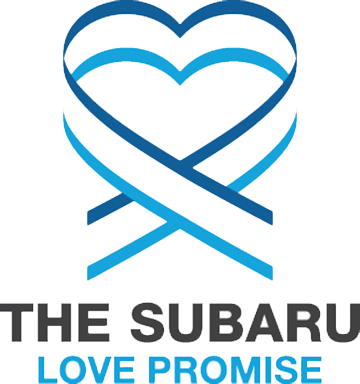 What is the Subaru Love Promise?
Subaru and our retailers believe in making the world a better place and the Subaru Love Promise is our vision of respecting all people. This is our commitment to show love and respect to our customers and to work to make a positive impact in the world.
How is Downtown Subaru of Oakland, CA dedicated locally to the Love Promise?
Downtown Subaru of Oakland is committing to the Love Promise by reaching out to our favorite local causes. We are proud sponsors of the East Bay SPCA, UCSF Benioff Children's Hospital Oakland, Meals on Wheels, Oakland Technical High School, Moving Forward Institute and the Alameda Little League. Oakland is a wonderful community, full of talent and potential. We commit our dedication and resources to the people and pets of this great city.
Piedmont High School, Oakland Technical High School
Alameda Little League, Alameda Food Bank
UCSF Benioff Children's Hospital Oakland
Love Promise Stories from Downtown Subaru of Oakland, CA
Subaru and Downtown Subaru of Oakland, CA believe in making a positive impact on the communities in which we live and work. We uphold that belief through our Love Promise Community Commitment. Every month, we select inspiring stories from customers and partners from around our area who strive to support our collective commitment and feature them here
UCSF Oakland - Subaru Loves to Care - Alexa A
On Tuesday June 25, Leukemia & Lymphoma society staff members Andrea Orozco, and Lauren Echsner met with UCSF staff member Jackie Curran to receive the delivery of Subaru blankets from the local Oakland Subaru. LLS and its East Bay Light The Night campaign has been a partner of Subaru by being apart of the Subaru "Loves To Care" program. While awaiting the delivery of the blankets LLS Staff spoke with UCSF staff about how these blankets were extremely useful to patients. Due to the way that the blankets are delivered (wrapped) they are much more sanitary and most of all, patients love them. When Subaru arrived with the blankets they had smiles on their faces and were truly excited to give them to the hospital. At the end of the encounter we all got together for a fun group picture!
---
Downtown Subaru & LLS Blanket Delivery - Megan M
On June 28th, the Leukemia & Lymphoma Society's (LLS) Greater Bay Area Chapter teamed up with Downtown Subaru of Oakland to deliver blankets and arts & crafts kits to UCSF Benioff Oakland Children's Hospital. At the hospital, Downtown Subaru and Children's Hospital staff unloaded the 80 blankets, arts and craft kits, and dozens of message of hope cards written by the caring customers of Downtown Subaru. Hospital staff had Downtown Subaru's name on the digital donor wall for a lovely photo opportunity and they were incredibly thankful for the donation. We are all grateful to UCSF Benioff Oakland Children's Hospital for the wonderful care they provide to Bay Area children. Thank you to Downtown Subaru for making a difference!
---
Our Subaru has a new nickname! - Mary G
We have received so much positive attention from our beautiful Subaru! We bring it to community events, meetings, shopping runs, and anywhere and everywhere else that we think will bring our program exposure. We wanted to get our supporters more involved with our car and also thought that we needed to find a better way to refer to our car than "the Subaru." So we held a contest to find a great new nickname for our beautiful car. We assembled an informal panel of judges from the advertising and marketing fields to review the dozens of entries submitted by our volunteers, donors and community supporters. The unanimous decision was "Souparu" which is perfect because although our judges didn't know it, we serve soup every Wednesday. We recently brought "Souparu" to our annual fundraiser and parked her outside to help greet guests, and she'll (we feel like she is a she!) participate in the parade portion of an annual community festival where we are located. People love the name and still can't quite believe that Subaru donated brand new cars! Our volunteer delivery drivers love the name and we are excited to have "Souparu" as part of our Meals on Wheels family!
---
Our beautiful 2018 Subaru Outback makes us smile! - Mary G
SOS Meals on Wheels produces and delivers 1,200 meals daily for seniors in the East Bay Area. Every day our small fleet of well worn delivery vehicles hit the road. And judging by the dings and dents, sometimes they get hit too! Our brand new 2018 Subaru Outback will help us deliver meals more efficiently, bring positive publicity to our program, help us recruit new volunteers and will be a shining representative of the need for Meals on Wheels in our community! We can't stop smiling when we think about our new car and we can't say "thank you" enough to Subaru America for supporting vulnerable seniors and Meals on Wheels America!
---
Downtown Subaru Spreads Warmth & Hope - Frances I
On June 19, the Leukemia & Lymphoma Society's Greater Bay Area Chapter teamed up with Downtown Subaru of Oakland to deliver 80 blankets, 10 craft kits, and dozens of messages of warmth and hope to cancer patients at UCSF Benioff Children's Hospital. At the hospital, LLS and Subaru staff met Ariana, a five-year-old leukemia survivor, and her father, Roberto – as well as her beloved doll, Charlotte. Ariana was diagnosed with acute lymphoblastic leukemia (ALL) when she was only three. The Subaru staff were touched by Ariana's spirit and resilience, as she faced the many challenges of cancer treatment with a smile. They were also thrilled to learn that Ariana is now in remission and had completed her 27-month treatment program just last month! Ariana was shy at first, but after some time, she chimed in and proudly informed us of her "new ALL diagnosis" – Ariana Licked Leukemia! Mohammad, Sherry, and Rocky from Downtown Subaru shared words of encouragement with Ariana and Roberto. Then, they gave Ariana a blanket and craft kit, which she was excited to open right away! As the event wrapped us, Roberto saw Ariana's phlebotomist, Vicky, coming into the lobby. Ariana turned around and gave Vicky a huge hug! This touching moment, with the LLS, Subaru, and UCSF Benioff communities joined around Ariana, was an incredible reminder of the impact that we can have in the fight against pediatric cancers when we all work together. Thank you to Downtown Subaru for making a difference!
---
An Adult Prom to Benefit High School Literacy! - Lacy A
Moving Forward Institute is a nonprofit education organization dedicated to ensuring that all students receive the academic and emotional support they need to thrive in school. We've served over 10,000 low-income students in the Bay Area, providing culturally-relevant tutoring and mentoring support services to the highest-need students in our community. We are so grateful for Downtown Subaru of Oakland's support of our organization through its premier sponsorship of our Adult Prom. This event drew together hundreds of people who are passionate about supporting all Oakland high school students to graduate from high school and become engaged, productive members of our community. With music, dancing, great food, prom photos, and the chance to re-live a nostalgic high school tradition, it was an unforgettable evening! Thank you so much, Subaru!
---
Subaru Loves To Care - Julie S
As a participant in the Subaru Loves To Care Event, Downtown Subaru of Oakland donated 60 blankets to children at UCSF Benioff Children's Hospital. We hope these blankets will bring some small comfort to the children who are treated at this hospital. About UCSF Benioff Children's Hospitals: UCSF Benioff Children's Hospitals are among the nation's finest pediatric medical centers, according to U.S. News & World Report's annual rankings. Their expertise covers virtually all pediatric conditions, including cancer, heart disease, neurological disorders, pulmonology, diabetes, and endocrinology, as well as the care of critically ill newborns. The nonprofit UCSF Benioff Children's Hospitals are committed to providing outstanding care to children in the Bay Area, California and beyond. They are known nationally and internationally for basic and clinical research, and are at the forefront of translating research into interventions for treating and preventing diseases. The San Francisco campus is part of UC San Francisco, whose schools of Medicine, Pharmacy, Dentistry and Nursing lead the nation in research grants from the National Institutes of Health. The Oakland campus has a highly regarded pediatric residency program and is one of only five ACS Pediatric level I trauma centers in California.
---
Downtown Subaru of Oakland & Meals on Wheels - Julie S
Downtown Subaru of Oakland was a Platinum sponsor for The Taste of France event to raise money for Meals on Wheels of Alameda County. This years event honored the beautiful and diverse country of France that has been through so much. Meals on Wheels of Alameda County, were inspired by the French people, their resiliency, sheer determination and spirit in face of adversity. These traits are much like those we see in our home-bound seniors who face their own struggles daily to have even something as simple as a nutritious meal. Whether they are challenged with mental, physical, social or financial adversity, it is the communities generous support that enables them to provide for them so that they continue to have the same hope and spirit as the people of France. The food prepared by local chefs and the French music was amazing as was the location at the Kaiser Rooftop Garden with views of Oakland surrounding the event. Subaru of Oakland is proud to have been a part of such a good cause for the seniors of our community. Pictured are Dr. Mohammad Khan, Subaru of Oakland GM, Nobue Khan, Dr. Jodi Synder and Andie Coultrera.
---
A Happy Ending for Butterfly Heroes - Julie S
Subaru of Oakland had a happy ending to our Butterfly Heroes effort. We delivered the certified Wildlife Habitat planter, bird feeder and wren house to the courtyard in front of Ms Walter's classroom at Oakland Technical High School. The brochures explaining habitats for butterflies and the packages of flower seeds.will be used by the Garden Class. We refreshed the planter with butterfly attracting flowers before delivery on a hand truck by two of our nicest employees. We hope you will see some butterflies soon.
---
The Butterfly Heroes at Downtown Subaru of Oakland - Julie S
The Monarch butterfly is a familiar favorite of many of our childhoods. Unfortunately, the decline in milkweed plants that are the only natural home for Monarch larvae has caused the Monarch population to plummet by over 90% in recent years. To help raise awareness to this issue, Downtown Subaru of Oakland has partnered with the National Wildlife Federation for the Butterfly Heroes program as part of our Subaru Loves the Earth initiative during the month of April. Want to learn more about how you can join us in our effort? Stop by our store to get information on the Butterfly Heroes program and pick up a pack of seeds to start your own butterfly habitat. Our manager, Aimal Eshan stands with the planter, bird feeder and wren house that we will be donating to Oakland Technical High School at the end of April.
---
TRAILHEAD enjoys wide audience with Subaru support - Stan D
Downtown Subaru of Oakland engaged our local outdoor community by entering into an exciting partnership with our organization TRAILHEAD as it released its documentary film which premiered on October 7th at the Chabot Space & Science Center. As a presenting-level sponsor, Downtown Subaru of Oakland helped make possible not only the premiere event of the film, but also publicity of this worthwhile project in the East Bay and beyond. Subaru Corporate generously supported our wonderful project as part of the national Love Promise campaign, which has and will continue to bring lots of positive and far-reaching publicity for the film project. In collaboration with producer Stan Dodson, TRAILHEAD volunteers, and filmmakers Emily Fraser and Henry Wiener, TRAILHEAD tells the story of Oakland, California's largest wildland trail system that connects neighborhoods to redwood forests and over five hundred miles of trails that span the entire East Bay. The film has also been invited and will be entered into dozens of film festivals in the United States and abroad. TRAILHEAD could not have seen such huge success for this positive and wonderful Oakland story had it not been for the support of Downtown Subaru of Oakland and Subaru Corporate. THANK YOU!!
---
Lou and Yogi, best friends forever - Grace R
Yogi, an eight-year-old male brown and white tabby, was surrendered by his owners in July, 2014, when they received notice of eviction. He became a wise elder for our shelter animals after staying for a total of one year at our Dublin and Oakland facilities. Along the way, he met roommate Lou, a two-year-old medium-haired tuxedo who stayed with us for seven months. Lou's owner surrendered him emaciated, dehydrated and very unkempt in December, 2014. Our vets examined him, diagnosed kidney issues and ulcers in his mouth and put him on painkillers and antibiotics that improved his health dramatically in just a few months. We then moved him to our Dublin facility where he became Yogi's roommate. Luckily, two weeks after Yogi was adopted in July, his forever family came back to adopt Lou too. There is something special about adopting senior and adult pets, especially two at one time! Thanks to generous donors like Subaru two are living happily ever after in Livermore, California.
---
Buttercup AKA as Lulu find a new home - Grace R
Three-year-old Roo the pit bull was surrendered by her owner because he couldn't afford medical care for her broken leg. Unfortunately, the bone had set in such a way that the leg had to be amputated. As she recovered from the surgery, she never seemed to notice that missing fourth leg and everyone's heart with her playful, carefree demeanor shown in this picture taken at our shelter. Somehow a family from Los Angeles heard her story and drove up with to meet and adopt her. It was a wonderful match and they took her home, started an Instagram account for her and have since chronicled her luxurious adventurous life. In a loving forever home environment, she has mellowed out and calmed down a lot, they said. Mind you, she keeps up with hikes and learning to play ball and fetch so she gets her needs met with my active lifestyle and I think she is just as happy as I am. Buttercup now runs in fields and on mountaintops, thanks to generous donors like Subaru who helped pay for her medical care and long shelter stay.
---