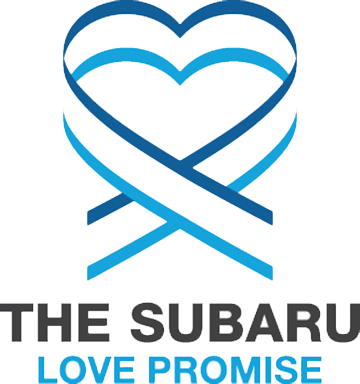 What is the Subaru Love Promise?
Subaru and our retailers believe in making the world a better place and the Subaru Love Promise is our vision of respecting all people. This is our commitment to show love and respect to our customers and to work to make a positive impact in the world.
How is Downtown Subaru of Oakland, CA dedicated locally to the Love Promise?
Downtown Subaru of Oakland is committing to the Love Promise by reaching out to our favorite local causes. We are proud sponsors of the East Bay SPCA, UCSF Benioff Children's Hospital Oakland, Meals on Wheels, Oakland Technical High School, Moving Forward Institute and the Alameda Little League. Oakland is a wonderful community, full of talent and potential. We commit our dedication and resources to the people and pets of this great city.
Piedmont High School, Oakland Technical High School
Alameda Little League, Alameda Food Bank
UCSF Benioff Children's Hospital Oakland
Love Promise Stories from Downtown Subaru of Oakland, CA
Subaru and Downtown Subaru of Oakland, CA believe in making a positive impact on the communities in which we live and work. We uphold that belief through our Love Promise Community Commitment. Every month, we select inspiring stories from customers and partners from around our area who strive to support our collective commitment and feature them here
Subaru Loves Pets Helps Senior Dog Luigi - Kayla V
When Luigi, a sweet nine-year-old miniature poodle arrived at the East Bay SPCA, we thought he would be adopted in no time. He was a small, no-shed breed with a big, fun personality—the type of dog that is in high demand among potential adopters. However, as we examined him it became evident that he had a host of medical issues, and we knew it would take a very special adopter to accept and love Luigi and provide him with the loving and caring home he would need to thrive. Even before Luigi could be ready for adoption, he needed extensive medical care from our staff. Luigi was partially blind from cataracts, so we treated his eyes with medication and removed a small mass from one of his eyelids. We also did a thorough dental cleaning and extracted several teeth that had deteriorated from severe plaque. But then, following his dental procedure, Luigi fell ill. After bloodwork, x-rays and hospitalization, Luigi was diagnosed with pancreatitis. This caused inflammation and irritation of his esophagus and made it difficult for him to eat. We began preparing him a special diet and feeding him from an elevated food bowl—something he would need for the rest of his life. And if all that wasn't enough, Luigi is completely deaf. Like so many senior pets, Luigi's medical and health issues were something many potential adopters weren't prepared to take on with a new pet. In Luigi's case, his list of special needs was longer than most. But the right family did come along, and after three months at our shelter, Luigi was adopted and couldn't be happier!! Older dogs and cats come to the East Bay SPCA all the time. They are typically surrendered or abandoned when they become less active or start to develop health issues that owners can't or won't afford to address. Thanks to programs like Subaru Loves Pets, Share the Love and generous donations, we can welcome these special loving animals, take the time to build trust, find them new homes, and provide them the dignity of quality end-of-life care.
---
UCSF Oakland - Subaru Loves to Care - Alexa A
On Tuesday June 25, Leukemia & Lymphoma society staff members Andrea Orozco, and Lauren Echsner met with UCSF staff member Jackie Curran to receive the delivery of Subaru blankets from the local Oakland Subaru. LLS and its East Bay Light The Night campaign has been a partner of Subaru by being apart of the Subaru "Loves To Care" program. While awaiting the delivery of the blankets LLS Staff spoke with UCSF staff about how these blankets were extremely useful to patients. Due to the way that the blankets are delivered (wrapped) they are much more sanitary and most of all, patients love them. When Subaru arrived with the blankets they had smiles on their faces and were truly excited to give them to the hospital. At the end of the encounter we all got together for a fun group picture!
---
Downtown Subaru & LLS Blanket Delivery - Megan M
On June 28th, the Leukemia & Lymphoma Society's (LLS) Greater Bay Area Chapter teamed up with Downtown Subaru of Oakland to deliver blankets and arts & crafts kits to UCSF Benioff Oakland Children's Hospital. At the hospital, Downtown Subaru and Children's Hospital staff unloaded the 80 blankets, arts and craft kits, and dozens of message of hope cards written by the caring customers of Downtown Subaru. Hospital staff had Downtown Subaru's name on the digital donor wall for a lovely photo opportunity and they were incredibly thankful for the donation. We are all grateful to UCSF Benioff Oakland Children's Hospital for the wonderful care they provide to Bay Area children. Thank you to Downtown Subaru for making a difference!
---
Our Subaru has a new nickname! - Mary G
We have received so much positive attention from our beautiful Subaru! We bring it to community events, meetings, shopping runs, and anywhere and everywhere else that we think will bring our program exposure. We wanted to get our supporters more involved with our car and also thought that we needed to find a better way to refer to our car than "the Subaru." So we held a contest to find a great new nickname for our beautiful car. We assembled an informal panel of judges from the advertising and marketing fields to review the dozens of entries submitted by our volunteers, donors and community supporters. The unanimous decision was "Souparu" which is perfect because although our judges didn't know it, we serve soup every Wednesday. We recently brought "Souparu" to our annual fundraiser and parked her outside to help greet guests, and she'll (we feel like she is a she!) participate in the parade portion of an annual community festival where we are located. People love the name and still can't quite believe that Subaru donated brand new cars! Our volunteer delivery drivers love the name and we are excited to have "Souparu" as part of our Meals on Wheels family!
---
Our beautiful 2018 Subaru Outback makes us smile! - Mary G
SOS Meals on Wheels produces and delivers 1,200 meals daily for seniors in the East Bay Area. Every day our small fleet of well worn delivery vehicles hit the road. And judging by the dings and dents, sometimes they get hit too! Our brand new 2018 Subaru Outback will help us deliver meals more efficiently, bring positive publicity to our program, help us recruit new volunteers and will be a shining representative of the need for Meals on Wheels in our community! We can't stop smiling when we think about our new car and we can't say "thank you" enough to Subaru America for supporting vulnerable seniors and Meals on Wheels America!
---
Downtown Subaru Spreads Warmth & Hope - Frances I
On June 19, the Leukemia & Lymphoma Society's Greater Bay Area Chapter teamed up with Downtown Subaru of Oakland to deliver 80 blankets, 10 craft kits, and dozens of messages of warmth and hope to cancer patients at UCSF Benioff Children's Hospital. At the hospital, LLS and Subaru staff met Ariana, a five-year-old leukemia survivor, and her father, Roberto – as well as her beloved doll, Charlotte. Ariana was diagnosed with acute lymphoblastic leukemia (ALL) when she was only three. The Subaru staff were touched by Ariana's spirit and resilience, as she faced the many challenges of cancer treatment with a smile. They were also thrilled to learn that Ariana is now in remission and had completed her 27-month treatment program just last month! Ariana was shy at first, but after some time, she chimed in and proudly informed us of her "new ALL diagnosis" – Ariana Licked Leukemia! Mohammad, Sherry, and Rocky from Downtown Subaru shared words of encouragement with Ariana and Roberto. Then, they gave Ariana a blanket and craft kit, which she was excited to open right away! As the event wrapped us, Roberto saw Ariana's phlebotomist, Vicky, coming into the lobby. Ariana turned around and gave Vicky a huge hug! This touching moment, with the LLS, Subaru, and UCSF Benioff communities joined around Ariana, was an incredible reminder of the impact that we can have in the fight against pediatric cancers when we all work together. Thank you to Downtown Subaru for making a difference!
---
An Adult Prom to Benefit High School Literacy! - Lacy A
Moving Forward Institute is a nonprofit education organization dedicated to ensuring that all students receive the academic and emotional support they need to thrive in school. We've served over 10,000 low-income students in the Bay Area, providing culturally-relevant tutoring and mentoring support services to the highest-need students in our community. We are so grateful for Downtown Subaru of Oakland's support of our organization through its premier sponsorship of our Adult Prom. This event drew together hundreds of people who are passionate about supporting all Oakland high school students to graduate from high school and become engaged, productive members of our community. With music, dancing, great food, prom photos, and the chance to re-live a nostalgic high school tradition, it was an unforgettable evening! Thank you so much, Subaru!
---
Subaru Loves To Care - Julie S
As a participant in the Subaru Loves To Care Event, Downtown Subaru of Oakland donated 60 blankets to children at UCSF Benioff Children's Hospital. We hope these blankets will bring some small comfort to the children who are treated at this hospital. About UCSF Benioff Children's Hospitals: UCSF Benioff Children's Hospitals are among the nation's finest pediatric medical centers, according to U.S. News & World Report's annual rankings. Their expertise covers virtually all pediatric conditions, including cancer, heart disease, neurological disorders, pulmonology, diabetes, and endocrinology, as well as the care of critically ill newborns. The nonprofit UCSF Benioff Children's Hospitals are committed to providing outstanding care to children in the Bay Area, California and beyond. They are known nationally and internationally for basic and clinical research, and are at the forefront of translating research into interventions for treating and preventing diseases. The San Francisco campus is part of UC San Francisco, whose schools of Medicine, Pharmacy, Dentistry and Nursing lead the nation in research grants from the National Institutes of Health. The Oakland campus has a highly regarded pediatric residency program and is one of only five ACS Pediatric level I trauma centers in California.
---
Downtown Subaru of Oakland & Meals on Wheels - Julie S
Downtown Subaru of Oakland was a Platinum sponsor for The Taste of France event to raise money for Meals on Wheels of Alameda County. This years event honored the beautiful and diverse country of France that has been through so much. Meals on Wheels of Alameda County, were inspired by the French people, their resiliency, sheer determination and spirit in face of adversity. These traits are much like those we see in our home-bound seniors who face their own struggles daily to have even something as simple as a nutritious meal. Whether they are challenged with mental, physical, social or financial adversity, it is the communities generous support that enables them to provide for them so that they continue to have the same hope and spirit as the people of France. The food prepared by local chefs and the French music was amazing as was the location at the Kaiser Rooftop Garden with views of Oakland surrounding the event. Subaru of Oakland is proud to have been a part of such a good cause for the seniors of our community. Pictured are Dr. Mohammad Khan, Subaru of Oakland GM, Nobue Khan, Dr. Jodi Synder and Andie Coultrera.
---
A Happy Ending for Butterfly Heroes - Julie S
Subaru of Oakland had a happy ending to our Butterfly Heroes effort. We delivered the certified Wildlife Habitat planter, bird feeder and wren house to the courtyard in front of Ms Walter's classroom at Oakland Technical High School. The brochures explaining habitats for butterflies and the packages of flower seeds.will be used by the Garden Class. We refreshed the planter with butterfly attracting flowers before delivery on a hand truck by two of our nicest employees. We hope you will see some butterflies soon.
---