Check out www.mysubaru.com for all of our latest coupons, and be sure to download the MySubaru app to access our coupons and specials from your phone.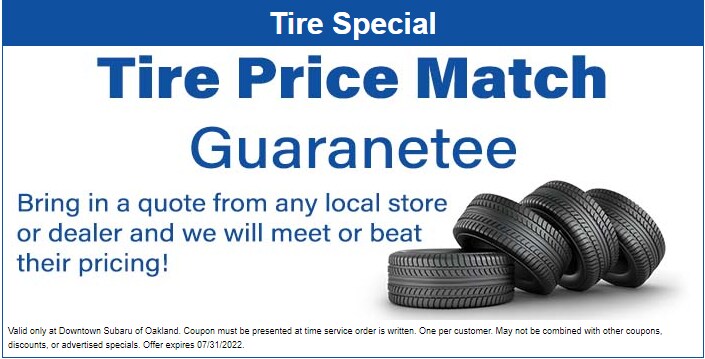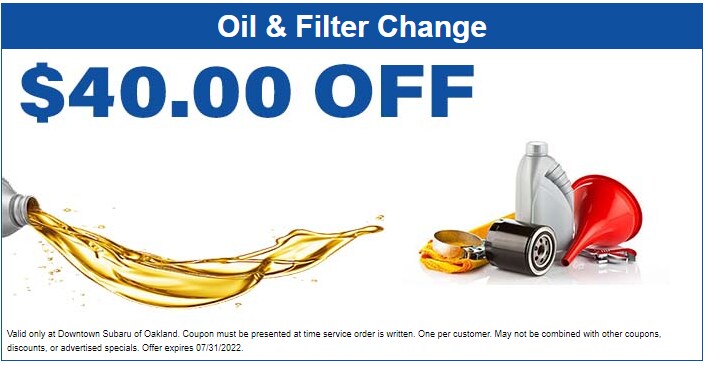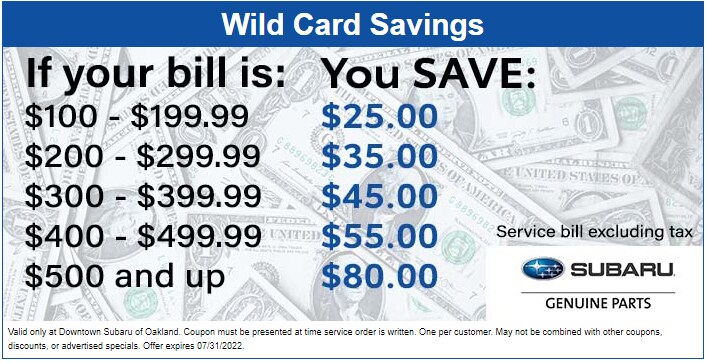 Special Discounts Across Subaru Servicing Procedures in the Bay Area
The overarching key to a robust, Subaru vehicle is regular maintenance and upkeep.
And while factory-suggested maintenance dates may get lost in the shuffle, special discounts across Subaru servicing are enticing and inspiring both.
At Downtown Subaru of Oakland, we often advertise our cost-saving specials to remind you of what's ultimately required of your Subaru model in the Bay Area.
Subaru-certified Servicing Specials to Enjoy Near San Francisco
It's truly imperative to keep your Subaru model on a service regime. In this effort, you're never left to wonder what may be affecting performance or safety.
And by offering cost-saving service specials, the following, popular procedures might prove ever-valuable down the proverbial road to Hayward:
Oil changes and oil filter replacements enhance performance while caring for the engine.
Brake systems consist of rotors, pads and calipers. And given location and role, each part sees an inordinate amount of wear from season to next.
Cabin, engine and air-conditioning filters require frequent inspection and replacements when necessary.
Tire servicing encompasses tread inspections, pressure checks, rotations and balancing.
Systems requiring fluids may need flushing after a certain period and mileage accrued. After which, fresh fluids are introduced.
Wheel alignment corrections improve steering and handling for safer traveling outside Oakland, CA.
Battery servicing will consist of testing, cleaning and replacements when required.
With any Subaru service procedure performed, the multipoint inspection is offered as complimentary. This effort will seek to identify issues before becoming larger, more costly problems.
The ability to save with use of Subaru-service specials is undoubtedly a benefit to our valued clientele.
Downtown Subaru of Oakland - Saving Our Clients Cash When Servicing Near Oakland, CA
Make a service appointment online or stop by our local, Subaru service facility today.
New Arrivals We Think You'll Love