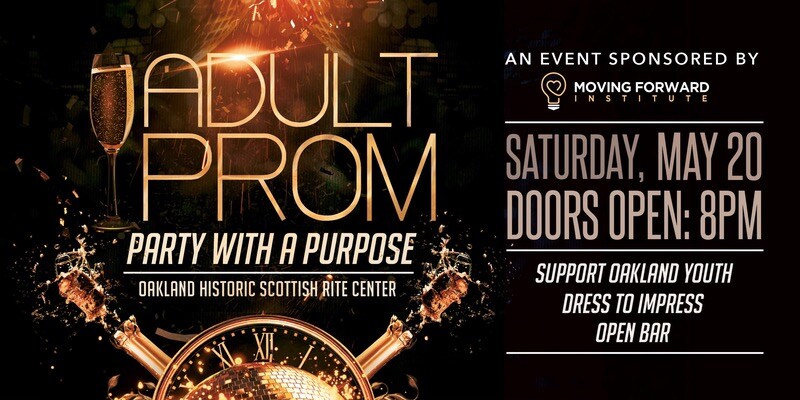 STEP OUT TO A GREAT PARTY & STEP UP FOR OAKLAND YOUTH!
We do everything our own way in Oakland. We stand up for what we believe in, we speak out when we see injustice…. and we really know how to throw a party! The Adult Prom is about stepping up to show that Oakland hella loves its kids, and stepping out in style to dance and drink the night away in support of a great cause.
Re-live or re-set your prom night experience-this time, older, wiser, and WAY more fabulous! (We promise to put your old high school Prom to shame!)
Come dressed to impress and we'll take care of the rest! We'll be popping bottles of Korbel California champagne
 all night long, and this time, the party punch is already spiked!! Late night munchies will keep you dancing all night! Illustrious DJ Francois will be spinning the best old school tunes to get you in a Prom state of mind!
We'll have all the throwback Prom traditions re-take that corny Prom photo and pin on a classic corsage or boutonniere, with proceeds benefiting the cause!

Support our young people with your tax deductible ticket and bid at our fabulous silent auction!
The Adult Prom promises to be an incredible party, but more importantly, the event will make a huge positive impact on our community. All event proceeds will be used to provide Oakland's high school students with culturally-responsive books and literacy resources that help drive their graduation success. In a city where two in every five students doesn't cross the graduation stage, this support could be a game-changer.